Thirty new DAFs for Reining
From empty beer bottles and hygiene products to automotive parts, Reining Transport has been offering the right transportation solutions for various sectors for more than 90 years. The company is adding a total of 30 new DAF XF 480 FAR road trains to the fleet this year. Dealer ESA Trucks from Groningen has delivered the first 15 road trains and they are already in full operation.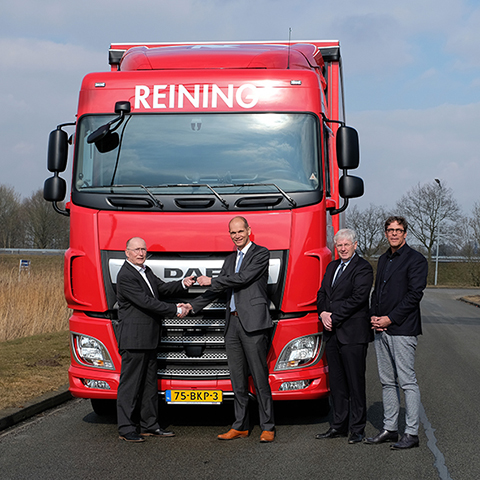 Reining Transport is active throughout Europe. "Our trucks can be found regularly in Germany, France, Italy, Hungary and Switzerland," says Gerrit Hes, Managing Director. 'Comfort is important at these longer distances. We have therefore opted for cabins with sleeping accommodation. The drivers are extremely satisfied with the space and comfort in the cab of the DAF XF. They also experience driving assistance systems such as Predictive Cruise Control and Lane Departure Warning System as pleasant. '
'With a DAF you know what you are up to'
Driver comfort and ease of use are welcome extras. According to Hes, business economic factors were the decisive factor in choosing DAF again. 'A DAF is a no-nonsense truck with stable technology. With a DAF you simply know where you stand, for example when it comes to the excellent fuel consumption and the long maintenance intervals, which have now increased to 200,000 kilometers. The service, the support and the fact that we can turn to DAF International Truck Service in the whole of Europe are equally decisive. '
Various cargo
The 30 DAF XF road trains are used for various tasks at Reining Transport. Hes: 'We transport parts for a number of large European car brands, but also various packaging materials for the food industry and empty bottles as well as light and large goods, including health care and other hygiene products.'
DAF for thirty years
Reining Transport was founded in 1925. The company has been using DAF trucks since 1986. The company now has its own fleet of vehicles with more than 300 road trains and 30 mega-trailer trucks and semi-trailer trucks. The company also has 450 employees, divided over three branches. The main location is in Kolham (Groningen). The two other branches are located in Budapest (Hungary) and Bunde (Germany). There are also support locations in Haps (Noord-Brabant) and in Mariënrachdorf (Germany).
Source: www.daf.nl